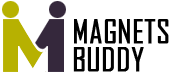 5 Reasons Why You Should Gift Business Card Magnets
Handshakes, self introductions and business cards never go out of fashion, when it comes to introducing your business to unknown customers.  Over the years, the first two things have remained the same; however the later has evolved into the new form and is known as business card magnets.
Here are 5 reasons, why you should seriously consider gifting away these magnetic business cards to all your clients and loved ones-
Remains Evergreen – Business cards are the only thing that gives you a grip during campaigning and also they are the firsts to get discarded, too. Paper business cards start looking torn, rugged and old with time. This means they stand all chances of losing the charm and ending up in dustbin. Whereas, business card magnets simply look great, attractive, and even last longer because people rarely make up their minds about throwing out business cards.

Throws Great Impressions – Custom business card magnets can forge great impressions than their paper counterparts. Most of them are created out of high quality paper and possess strong adhesive at the back, which adds to their overall quality. Most of these custom magnets act as show stopper, which means they stand high chances of retention over refrigerator doors as a refrigerator art for long time.

Comes to Aid At The Right Time – Most people are stacking business cards in drawers or pushing them into their purses or wallets  and often they miss out on the valuable information at the right time. However, with these adhesive business card magnets remain before eyes at all times and they easily show up from over refrigerator doors or files or cabinets and people can reach out to you at the right time.  Overall this helps in promoting brand recognition and building conviction around the business.

Worthy of Investment – Magnetic business cards are slightly pricier than their paper counterparts, but they are still worthy of each penny that is invested. They perform better than traditional card and offer large return on investment in favor. These sticky cards offer you "whale time" of exposure and keep promoting your goodwill, until the customer decides to trash them. However, paper business cards are cheaper to start, but you may miss out on chances of long term survival in the highly competitive business world.
Triggers a Shriek of Joy –Postcards, flyers, cards, and newspaper ads are largely employed by marketers to promote their business and people often get amused or annoyed on receiving them. It is definite that a business card magnet triggers a shriek of joy within a customer because they know it's going to offer them a valuable piece of business information as well as beautify their duller refrigerator surfaces, too. This helps them to understand, why the brand is different and their likely advantages of getting connected with them.
Do you think, it's time to move on and start advertising sensibly, then you should begin right here. Probably you'll have more to add on benefits of business card magnets by next time, when we reconnect.
Share and Enjoy